The artistic spontaneity of Javier Senosiain's bioarchitecture illustrates a type of design freedom and zest for life which only ferrocement can provide. Here is his design known as "Tiburón" (shark).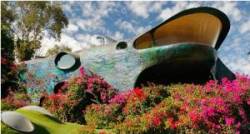 The Organic House was designed with one bedroom, a growing family was the need to expand, and this expansion was connected to the middle part of the original tunnel.

The monolithic structure is of ferrocement, the half-buried bedrooms work as foundation avoiding the reversing of the study that was built in the upper part facing Los Remedios National Park.